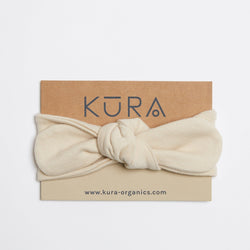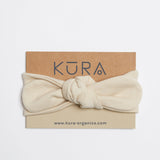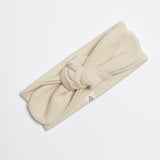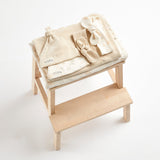 Organic Jersey Top Knot Headband in Biscuit
Our top knot headbands are crafted from incredibly soft 100% GOTS certified organic cotton jersey. They make the perfect accessory to complete your baby girls outfit. Pair with a Zip up Sleepsuit for the perfect coming home from hospital outfit.

PRODUCT FEATURES
100% GOTS certified organic cotton
Timeless neutral design
Cotton branding
Machine washable


ABOUT ME
Made using 100% GOTS Organic Cotton ~ you know, like the good stuff in the supermarket that use less pesticides to grow which means a happier and healthier planet. Using organic cotton yarns creates a fabric that is soft, cosy and luxurious.

COLOUR
A perfectly neutral, pale putty colour, somewhere between cream and beige and totally on trend.
Also available in: Chalk, Earth Print and Terrazzo.

SIZING
Our headbands are available in one size and have been designed to grow with your baby. Simply tie the bow to suit the size of your baby's head. Use from newborn up to 12 months+

MULTI AWARD WINNING
Our top knot headbands are made using the same exceptionally soft 100% GOTS organic cotton as our multi award winning Kura Organic Baby Wrap. We are extremely proud that we have won an array of esteemed and trusted awards since launching in 2019 including GOLD and SILVER Junior Design Awards, 2 PLATINUM Loved By Parents Awards and a SILVER Mother & Baby Award.

BEAUTIFULLY PACKAGED
We pride ourselves on our stunning gift worthy packaging. Each order has the option of being beautifully presented in its very own reusable, 100% cotton dustbag. 

LOOK AFTER ME
I am machine washable.
Put me on a gentle spin 30 degree wash.
Do not tumble dry. 
Our products are crafted using incredibly soft organic cotton knitted fabric to ensure comfort against baby's skin. Due to the nature of the knitted fabric and because we would like you to get lots of use, extra care does need to be taken when in use as it can be prone to natural wear and tear.
Wash instructions:
Machine wash at 30°c

Wash with similar colours

Dry flat

Warm iron if needed

Do not tumble dry

Do not bleach

Avoid soaking leather patch
THE KURA ORGANIC BABY WRAP HAS BEEN INDEPENDENTLY SAFETY CRASH TESTED TO EU & US REGULATIONS
We are proud that our brand has helped educate thousands of people about car seat safety and the risks of babies wearing thick layers, coats and snowsuits whilst in the car. This continues to be an important issue that many parents/carers are not aware of whilst putting their children at risk of car seat safety features failing.
Our original concept was that we wanted parents to have a safe solution to keeping their baby's warm in car seats and whilst travelling. Safety has 100% been at the forefront when designing and developing our products
and why we have invested time and money into safety testing them and ensuring that they are the very best quality
. As mums ourselves this was essential to us, not only because we have used/are using them with our own babies but also because we wanted parents to experience the same peace of mind when using our products.
The following questions are quite commonly asked by parents. We hope this information gives you a better understanding of the safety features of our products:
HAS THE KURA ORGANIC BABY WRAP BEEN CRASH TESTED?
Yes! The Kura Organic Baby Wrap has been independently safety crash tested based on
European (UN R129/I-SIZE) and USA (FMVSS 213) safety standards.
IS THERE A SPECIFIC CAR SEAT ACCESSORY TEST?
There
is
currently no legislation in place governing car seat accessories
.
H
owever
as mums ourselves we
were not comfortable launching our products without
the appropriate tests being carried out to provide
peace of mind for ourselves and our customers
.
Children's
safety 
has
always b
een
front of mind
when designing our products therefore ensuring our
products
were
safety crash tested
was
absolutely essential
to us
.
HOW WERE THE TESTS CARRIED OUT?
The testing was carried out in exactly the same way as any leading car seat brand. Both the EU and US tests were conducted in independent testing houses & consisted of two tests on a rearward facing car seat on a test sled with a dummy. The first test was without the wrap as the control and the second test was with the wrap. The test results were then compared and it was concluded that our wraps in no way compromised the safety of the car seat as both tests had the same results.
DO YOU HAVE VIDEOS/PHOTOS OF THE TESTING BEING CARRIED OUT?

WHERE WERE THE TESTS CARRIED OUT?
Our testing has been conducted in independent testing houses both in the EU and US. The EU testing was carried out at Thatcham Research in Thatcham, England and the US testing has been carried out at the NASA Calspan site in Buffalo, New York.
WHICH CAR SEATS WERE YOUR TESTS CARRIED OUT IN?
Our wraps have been crash tested in Maxi Cosi Cabriofix and Graco SnugRide 35 car seats.
The tests concluded that our wraps in no way compromised the safety of the car seat as both tests had the same results.
HAVE YOUR WRAPS BEEN SWEDISH PLUS TESTED?
All car seats must be approved according
to the legislation UN R129 in Europe and
FMVSS 213
in the USA. The Plus Test is
a newer,
additional voluntary test that car seat manufacturers
can choose to carry out. The Plus testing is much stricter
so only rear facing car seats can be tested. There is a much lower limit for the maximum strain on the neck. The head on crash
has a
really short
hard braking distance which makes the impact much more severe than in other crash tests.
Similarly
to the R129 (European) test and FMVSS 213 (US) test, these crash test regulations are for car seats, there
isn't
a specific car seat accessory test.
We are in the process of looking into if it is possible to get our wrap Plus tested. However, a consumer would still need to ensure that their choice of seat was Swedish plus tested.
IS THERE MATERIAL BETWEEN THE CAR SEAT AND BABY?
The Kura Organic Baby wrap has a clever opening in the back that allows the harness to be pulled through to the inside, ensuring that the harness remains in the correct position and is fastened directly on to baby's chest. As our wrap is closed over the top of the harness, there is only one thin layer of non-compressible material in the back and no padded layer is added between your baby and the car seat harness.
WILL MY BABY OVERHEAT IN A KURA ORGANIC BABY WRAP?
One of the best features of our Kura Organic Baby Wrap is that it can be fastened whilst out and about or opened up if/and when travelling in a warm vehicle so there is no risk of overheating.
In addition, our wraps are all 100% GOTS certified organic cotton.
Unlike synthetic fabrics and due to its natural properties, organic cotton is breathable and helps baby to naturally regulate their temperature which in turn helps prevent them from overheating.
DO CAR SEAT MANUFACTURERS ENDORSE YOUR WRAPS?
Understandably, most car seat manufacturers won't endorse any other branded products because they cannot guarantee that they have undergone rigorous safety testing. As our wraps have endured the same testing that all car seats are required to undergo in order to meet the regulations, we are confident in the safety of our products proven by the fact that our crash test results were the same regardless of whether the wrap was in the car seat or not. As our products are also considered as clothing, there is technically no required testing requirements (similarly to coats or cardigans) however, we have gone above and beyond to ensure our wraps are safe and have also been tested to the highest standards.
DO YOU HAVE ANY CAR SEAT SAFETY TIPS TO ENSURE BABY IS AS SAFE AS POSSIBLE?
1. Use a UN R129 (I-SIZE) approved car seat for improved safety:
Car seats approved according to the i-Size regulation lead to increased safety and provide the following major safety improvements:
✓ Better protection for the head and neck of babies with mandatory rearward-facing to 15 months
✓ Better head, neck and all over protection due to first-ever standardised side impact testing
✓ Safer installation using ISOFIX therefore reducing misuse
✓ Easier to choose the right sized car seat because of length classification
✓ Better compatibility between car and child car seats


2. Use the correct harness slots:
On rear-facing car seats, the shoulder straps should come through the car seat slots at or just below your child's shoulders.


3. Ensure the harness tension is tight enough:
Ensure your harness is snug enough by doing the pinch test. After you buckle and tighten the harness, pinch the harness at the shoulder. If the harness is snug, your fingers will slide off the webbing. If the harness is loose, you will be able to pinch the webbing between your fingers. A loose harness is a common mistake and is not safe. Keep tightening the harness until it passes the Pinch Test. Harnesses should be tight enough on the child that you can just get 2 fingers between the child and the harness – with your fingers lying flat against the child's collar bone.
4. Do not dress babies/children in bulky coats and snow suits when travelling in car seats:
Coats, snowsuits and thick layers create space between the harness and your childs body, preventing the harness from working correctly and risking the safety of your baby. During a collision, the padded layer immediately flattens out resulting in a harness that isn't fitting as close to the baby's body as it should be in order to restrain them properly, meaning that the harness straps could slide off the shoulders and your child could be ejected from their car seat.
5. Keep your child rear-facing until (at least) aged 4:

Extended rear facing (ERF) is 5 x safer than forward facing, providing your child with the greatest safety.
If there is anything else that hasn't been answered above, please do not hesitate to get in touch via email: hello @kura-organics.com and we will be happy to help.
Thank you so much for taking the time to read our safety information,